1. Definition
The furniture industry belongs to the consumer products and services retail industry category. According to the National Bureau of Statistics (GB/T4754-2017), the National Bureau of Statistics code for furniture manufacturing is C21. There are five sub-industries under the industry, namely, Wood Furniture Manufacturing (C2110), Mamboo and Rattan Furniture Manufacturing (C2120), Metal Furniture Manufacturing (C2130), Plastic Furniture Manufacturing (C2140), and Other Furniture Manufacturing ( C2190).
2. Development History
Before the 1990s, Chinese furniture was mainly made by hand, with one-to-one production, with no large-scale mechanized equipment, long production cycle, short sales radius, low efficiency, and manufacturers were mainly small regional enterprises.
After the 1990s, finished furniture gradually became popular, large-scale production, multi-location production base layout, manufacturing efficiency, transportation radius, branding, large enterprises appeared, but the personalized design is weak, the level of intelligence is low.
After 2000, custom furniture began to gradually prevail, custom furniture is the use of modern information technology and flexible production process, customized for consumers out of personalized furniture.
3. China's Furniture Industry Development Status – 2022
3.1 More Than 6,500 Companies Exceeding the Industry Average Size
In recent years, China's furniture industry continues to reshuffle, the industry has entered an orderly development phase. However, the average size of enterprises above the industry is still growing. By the end of 2020, China's national furniture industry above-scale enterprises exceeded 6,500, reaching 6,544, an increase of 134 from the end of 2019.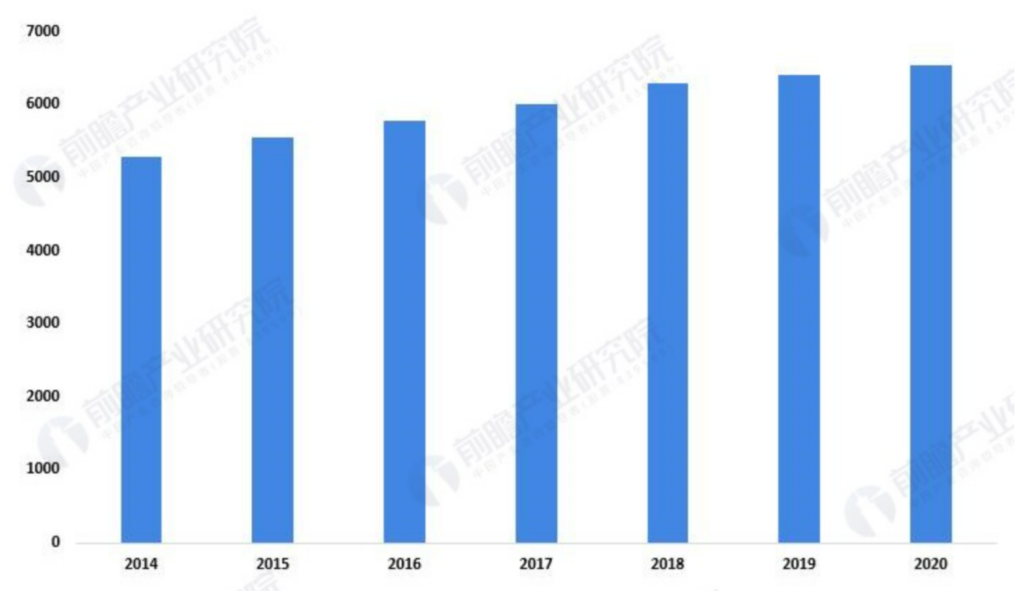 3.2 The Furniture Industry is Hit Hard by COVID-19
In 2020, as a durable consumer goods industry, the furniture industry is affected by the impact of COVID-19. 2020 China's furniture industry operating income of enterprises above the scale of 687.54 billion yuan, down 6.0% year-on-year.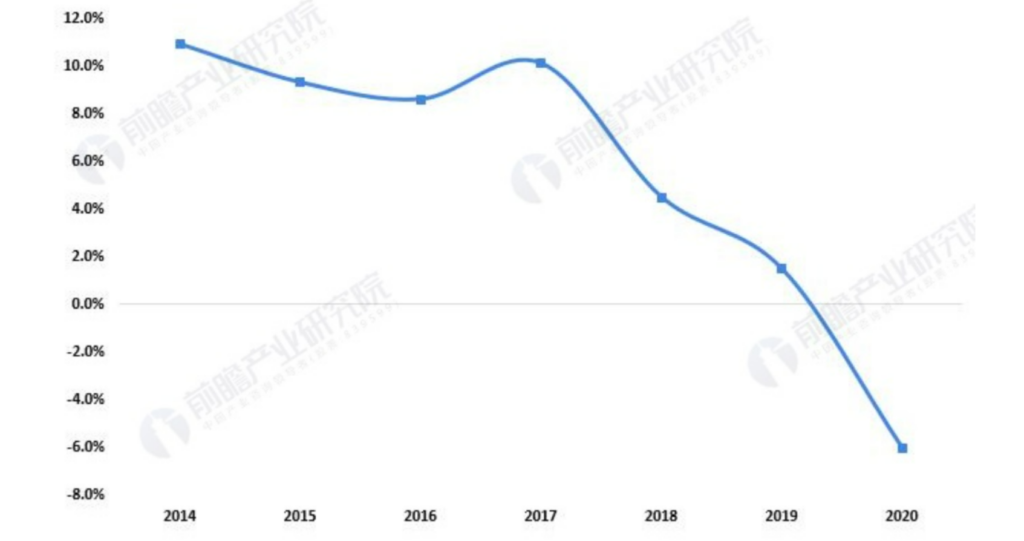 3.3 China has Become the World's Largest Furniture Producer
After decades of development, China's furniture industry has transformed from the manual era to the modern scale production stage and is now the world's largest furniture producer. 2020 China's furniture industry output was 912.210 million pieces, up 1.7% year on year.
In 2020 in China's furniture industry, 32157.27 million pieces of Wooden Furniture, accounting for 35.3%; 40438.54 million pieces of Metal Furniture, accounting for 44.3%.
3.4 Main Production Areas in China
From the regional distribution of China's furniture production, China's furniture production is mainly concentrated in coastal areas. Such as Zhejiang, Guangdong, Fujian, Jiangsu and other provinces. 2020 furniture production in Zhejiang Province ranked first in the country, with production reaching 255,618,000 pieces.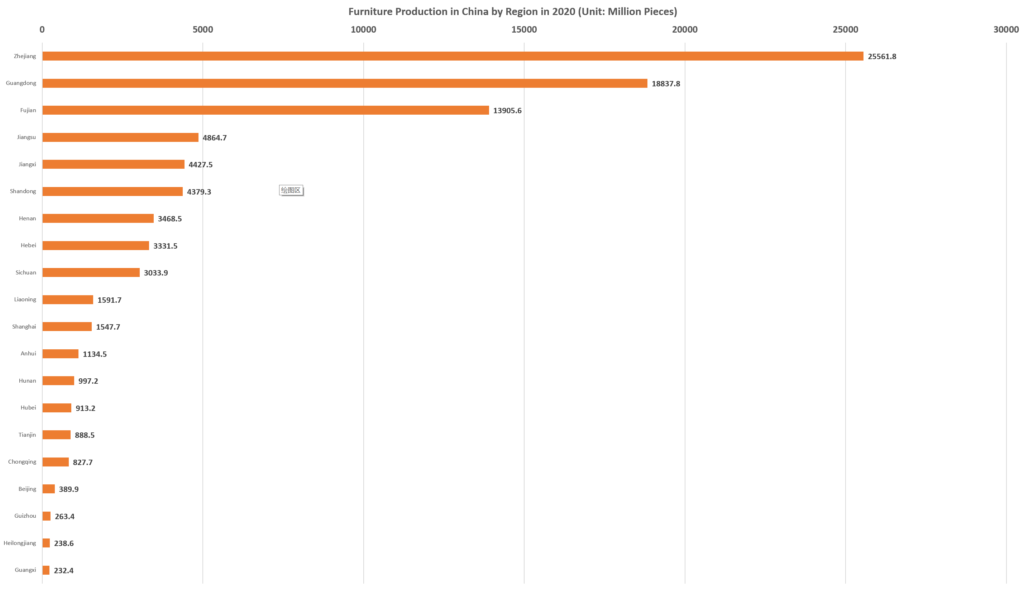 3.5 Major Furniture Exhibitions in China
Major Furniture Trade Shows to be held in China in 2021-2022:
| | | |
| --- | --- | --- |
| Date | Trade Show | Place |
| Sept.13-17, 2022 | China International Furniture Expo | Shanghai New International Expo Centre (SNIEC) |
| Sept. 5-8, 2022 | 50th CIFF Shanghai 2022 | National Exhibition and Convention Center, Shanghai |
| May 15-18, 2022 | Shenzhen International Furniture Fair 2022 | Shenzhen World Exhibition & Convention Center, Shenzhen |
| Mar. 18-21, 2022 | The 49th China Home Expo (Guangzhou) | China Import &Export Fair Pazhou Complex |
3.6 China National Furniture Association (CNFA)

China National Furniture Association was established in 1988. It is a national organization by the Chinese furniture industry and related industries of production, management, research, teaching, and other enterprises, as well as social groups and individuals voluntarily formed. CNFA has 7500 member companies currently, key members include: Easyhome, Red Star Macalline, Sleeman, KUKA, MAN WAH, Shangpin Home Collection, QUANYOU, Markor Furnishings, YIHUA LIFE, AURORA, UE Chairs, Qumei, Huari, A-Zenith, SUNON, Landbond, Lamex, etc.

The main work of CNFA includes: Organize the China International Furniture Expo (Furniture China), promoting the development of industrial clusters, developing information work, industry training organizations, promoting the furniture design, participating in standard-setting, and the work of ISO/TC136 and SAC/TC480, promote communication and cooperation between China and global furniture industry, etc. CNFA was elected Chairman Membership of the Council of Asia Furniture Associations (CAFA) on December 5th, 2014.